Affiliate and Referral links are used below to promote products I love and recommend. I receive a commission on any purchases made through these links. Please see my disclosure policy for more details.
I have always been a planner. I love making lists (either on paper or in my head) of things that need done. But lately I have been really winging it when it came to our days at home with Ellie. Now that she is officially a toddler, I wanted to set up a better routine. So today I am sharing our daily tot-school schedule and routine.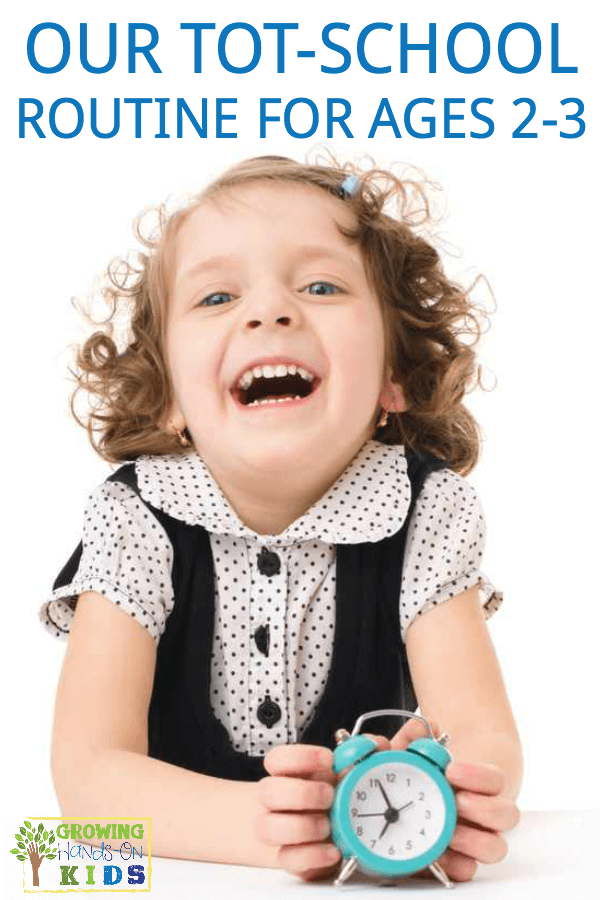 Ironically, this week when I came up with this routine and planned on posting about it, we did not stick with it hardly at all. Sunday night the internet went out at our house. And so went all of my to-do lists for the blog and projects that I work on while Ellie is sleeping.
So my point in this story is that you could have the best laid plans in place. Expect them to not get followed exactly.
This routine is just a guideline for us. A rough draft of the day as it were. It gives me an idea of what to plan for. To be more intentional about our time together. She is growing up so fast. I can hardly believe 2 is upon is and she is officially a toddler.
So without further ado, here is our very rough, drawn in the sand daily routine for tot school and toddler learning.
Our Tot School Schedule
7 am – mommy gets up, gets a shower, personal worship time, exercise, plan the day
8 am – Ellie gets up, pick out her clothes, eat breakfast and have worship with mommy.
9 am – Mommy watches her morning tv show (Kelly & Michael), morning free time, chores, clean up breakfast.
10 am – Montessori activity introduction or possible outside time depending on weather
Tuesday/Thursday – Possible tumbling class, so get ready to leave
Wednesday – Library story time at 10:30am, get ready to leave
11:00-11:30 am – Lunch (on tumbling class day, lunch in the car)
12:00-2:00pm – Quiet time for Ellie upstairs with books and stuffed animals (hoping for some naps), mommy work time.
2:00pm – Snack
3:00pm – Craft time or Montessori lesson introduction if we were gone that morning
4:00pm – Free time, reading, outside, spend time with daddy
5:00pm – Supper
6:00pm – Free time
2nd and 4th Wednesdays we have club meetings at church with I lead out in from 6:15-7:30pm.
8:00 pm – Bedtime (7:00pm if no nap that afternoon) and mommy work time
Again, this is going to be very loose and fluid. Things will move around and change as they need to.
In all honesty, this "schedule" is more for me than anything. I was starting to feel like a "lazy mom", barely going through the motions of the day. I needed a plan and some purpose for each day. So hoping this will help me to do that.
I am using the preschool planning pages from the Weekly Homeschool Planner to keep me organized. There is a section to write your routine in. Also a calendar that you can fill in the dates and activities for each day.
On the daily routine page there are blank boxes that I am using to write the activities ideas in. And also listing the shopping lists for each activity. Then when I go to the store, I can look ahead at the list and see what I need to purchase or see what I already have.
I also shared our tot school activity resource list here. I am excited for all the little projects and ideas I have come up with and so I shared all the great resources we will be using over the year.
I hope this gives you an idea of what you can do with your toddler at home. Tot-school is definitely not anything formal, but I think having a basic routine is great for any toddler (and mom!).
Be sure to follow my Homeschool Tot School Pinterest board for more ideas.
Follow Heather G. | Golden Reflections Blog's board Homeschool Tot-School Ideas on Pinterest.