Affiliate and Referral links are used below to promote products I love and recommend. I receive a commission on any purchases made through these links. Please see my disclosure policy for more details.
I want to welcome my good friend Maritza from Homeschool Epiphany. Maritza and I met over Twitter of all places and have become very good blogging friends over the last year. She is going to be sharing some easy and healthy snacks you can make with your kids, perfect for this summer!
Hello everyone! I'm a homeschooling mom, and first of all, I have to admit, that I get so overly committed to the learning process when it comes to the daily lessons, that I sometimes pass up some opportunities to spend educational, fun, and learning time on other aspects of home education, like learning in the kitchen.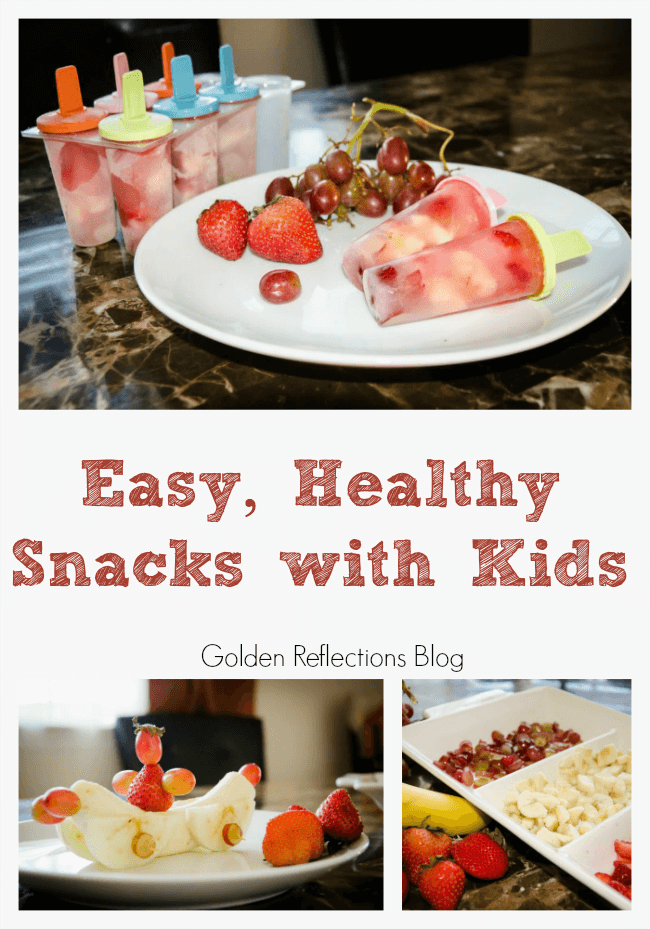 I have noticed, especially with my own little blessings, that when they are included in meal preparation, there are better chances of having them try new food, or actually eat their food (if you have any picky eaters, you know what I mean).
Sometimes the mess and the time spent overwhelms some of us moms, since the clean-up after is mostly on us (especially when the children are too young to help), but in most cases is an excellent "investment", why? For the following reasons:
We get to spend some nice quality and enjoyable time with our children as they naturally will want to be part of the making of their food/snack.
It can help our children tune in some of their fine motor skills.
We would have greater chances of getting our children to eat their food!
We did real fruit ice pops with my kiddos the other day, and even though it was a little messy, we did enjoy having that time together, that I'm inspired and more willing to continue doing these kinds of activities with them (if you are the type of mom that have fear of kitchen messes like I do, I assure you, this is actually liberating!).
Without further ado:
Real Fruit Ice Pops
Ingredients:
– About 4-5 Strawberries
– A handful of grapes
– One banana
– Any other favorite fruit like kiwi
– Ice pop tray
– Raspberry-lemonade juice (you can buy it, don't give yourself a headache over this)
Servings: 8 to 12
Calories per serving: Who cares, they are healthy and delicious!!!
Preparation Time: Varies with children ages (LOL! maybe about 45 minutes?)
How to Make it:
Cut all the fruit in little pieces (somewhere in between chopped and minced). You can give your little ones a plastic knife (a Montessori style one, but you can get a cheap one like the party plastic ones would work just fine) and have them practice cutting. They can also sort the fruit on a divided tray (math lesson here!)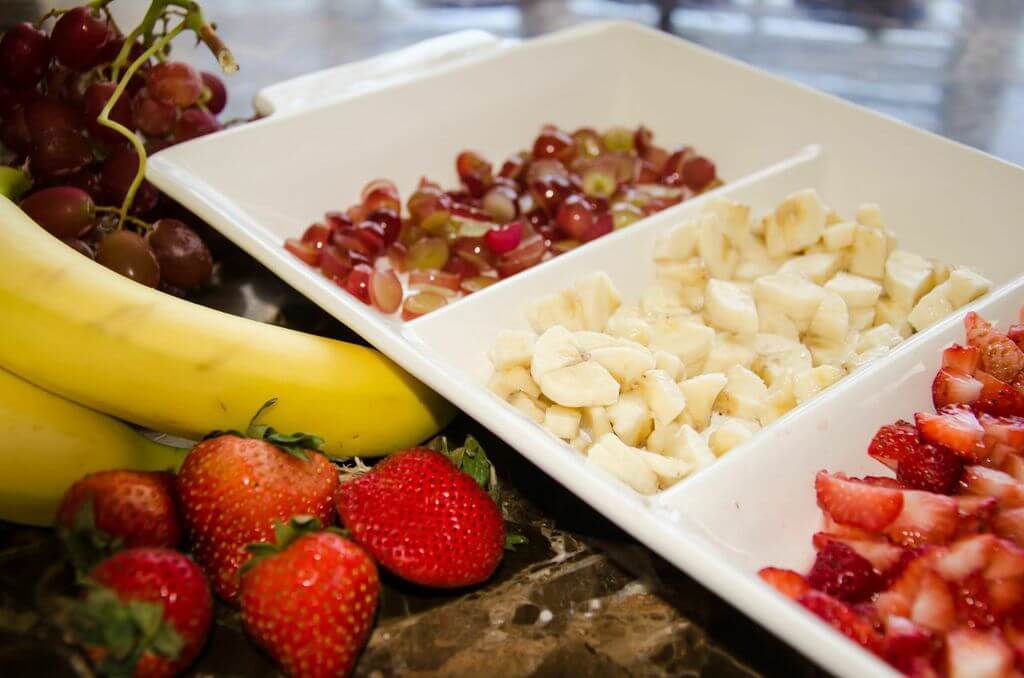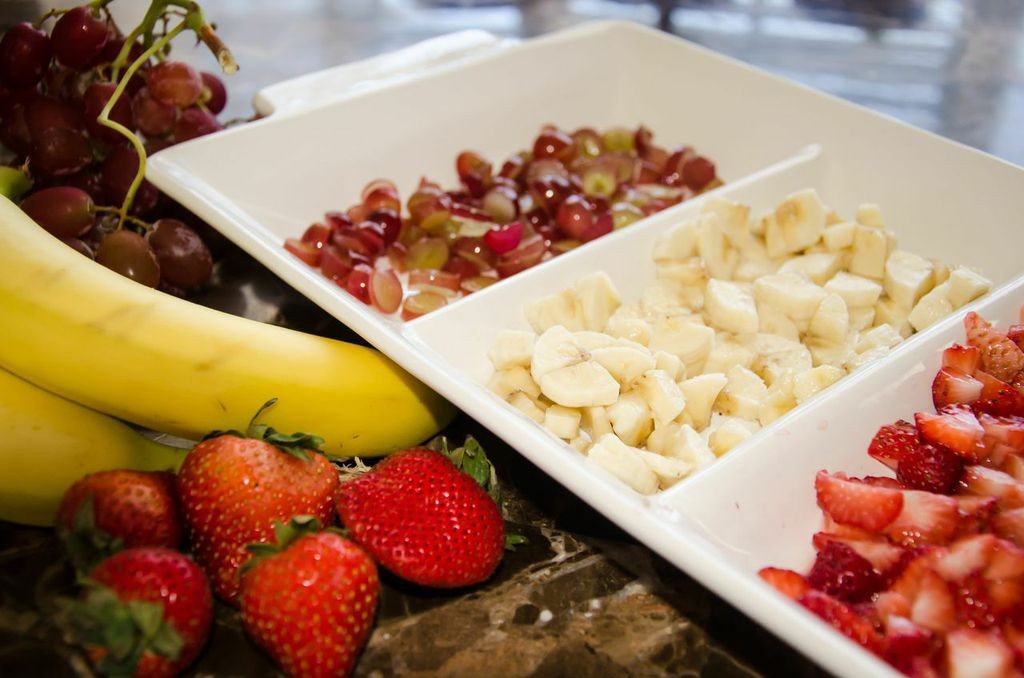 Add the raspberry-lemonade juice about 3 fourths of the way of the mold (you can also dilute a little with water to have less sugar content). If you may so desire, you can have your child/children take turns pouring (it will be messy, you have been warned!).
The next step will be to add the fruits. Let the children "pinch" the fruits and instruct them to gently drop them inside the ice pop molds: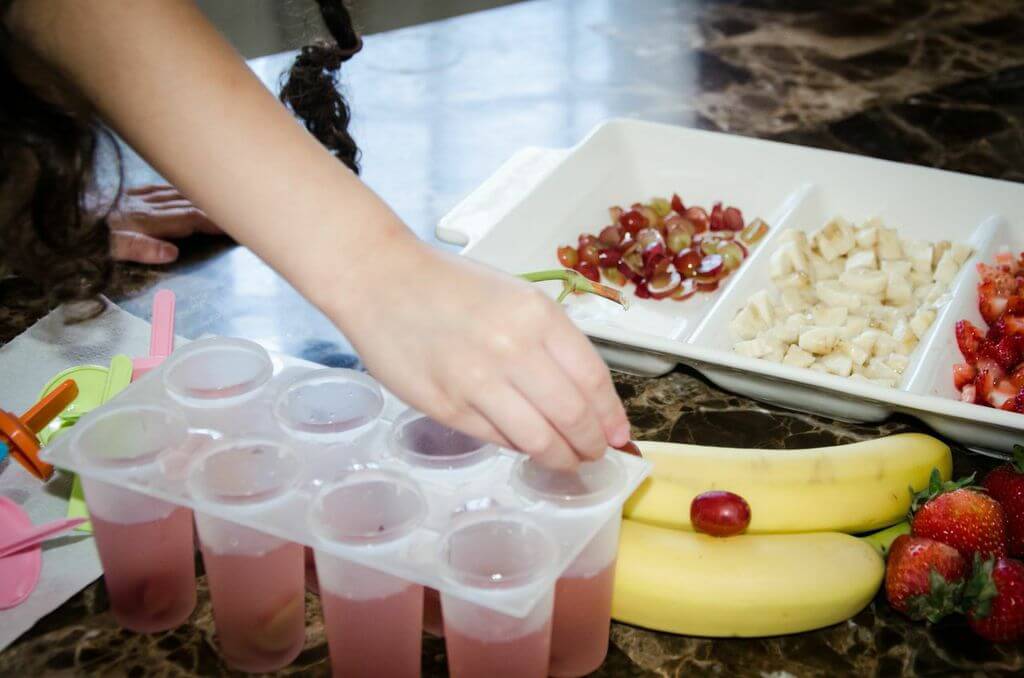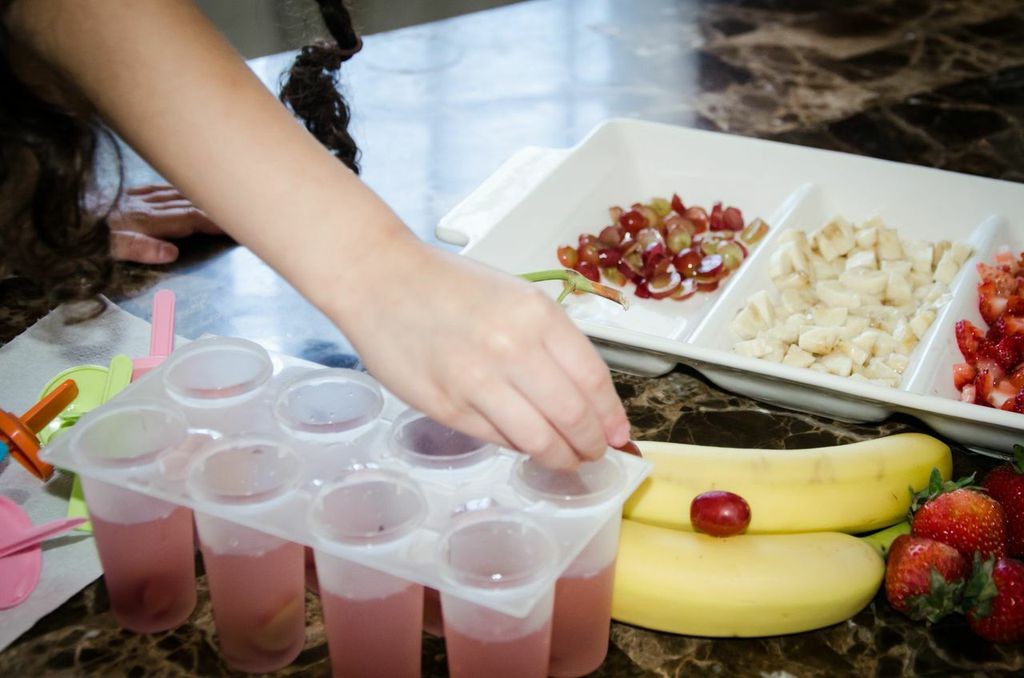 After adding the fruit, fill in with juice (or water) any remaining space of the molds and place the lids correspondingly: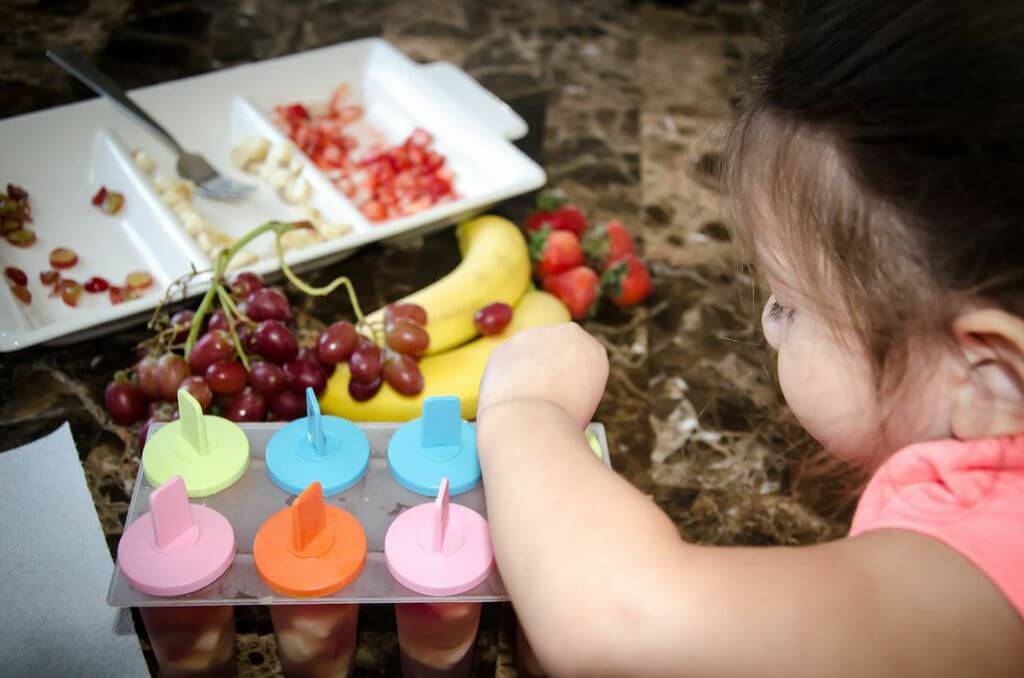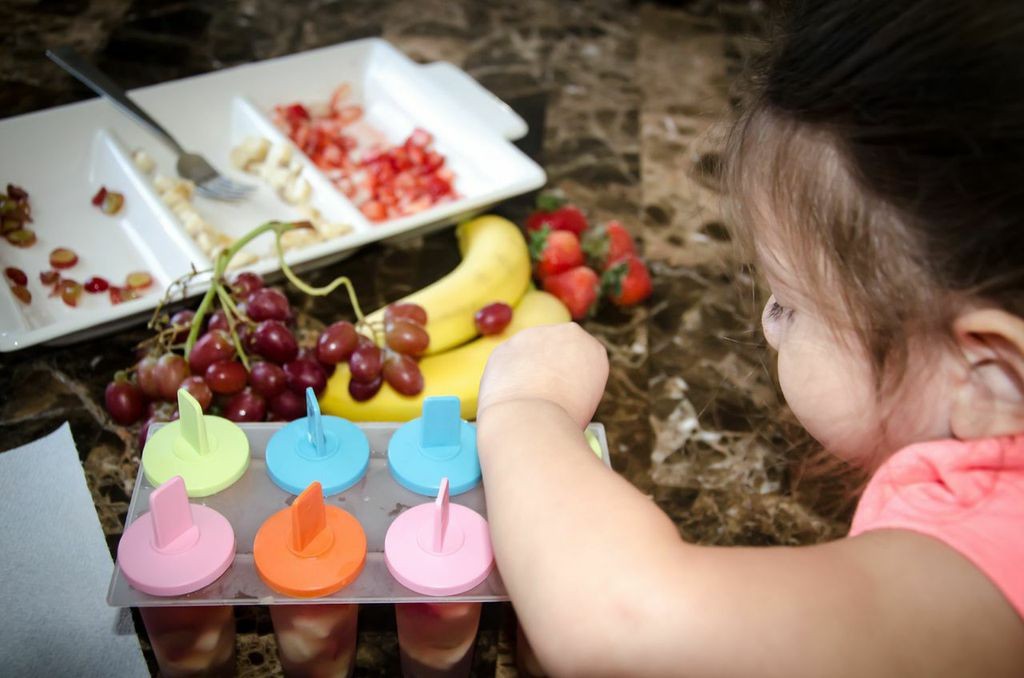 After about four hours (freezer times may vary), the fruity and healthy ice pops are ready to enjoy!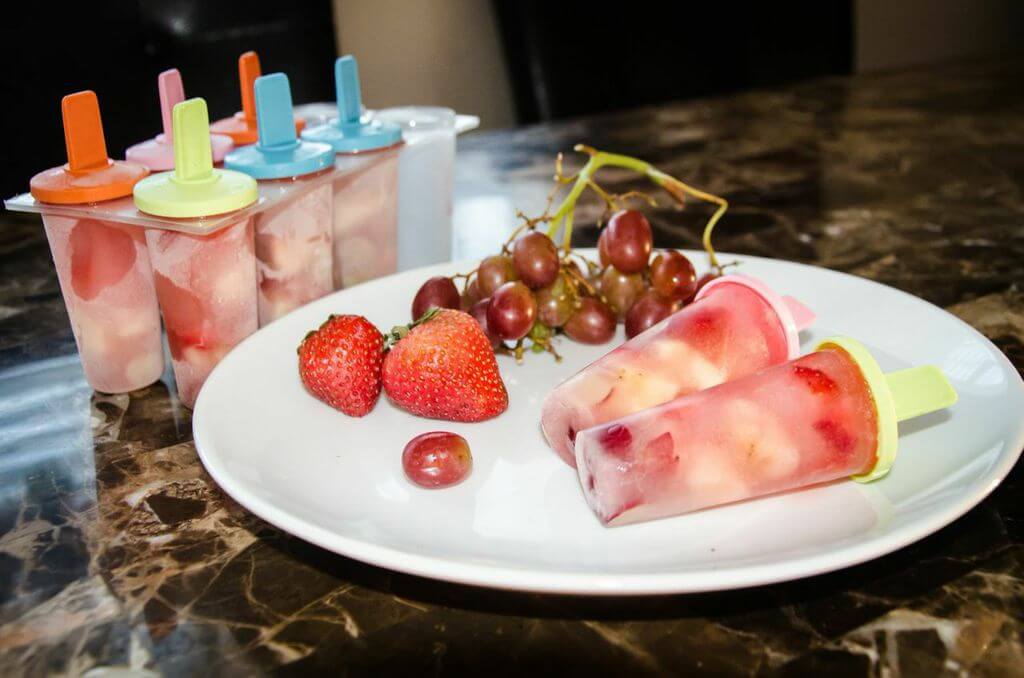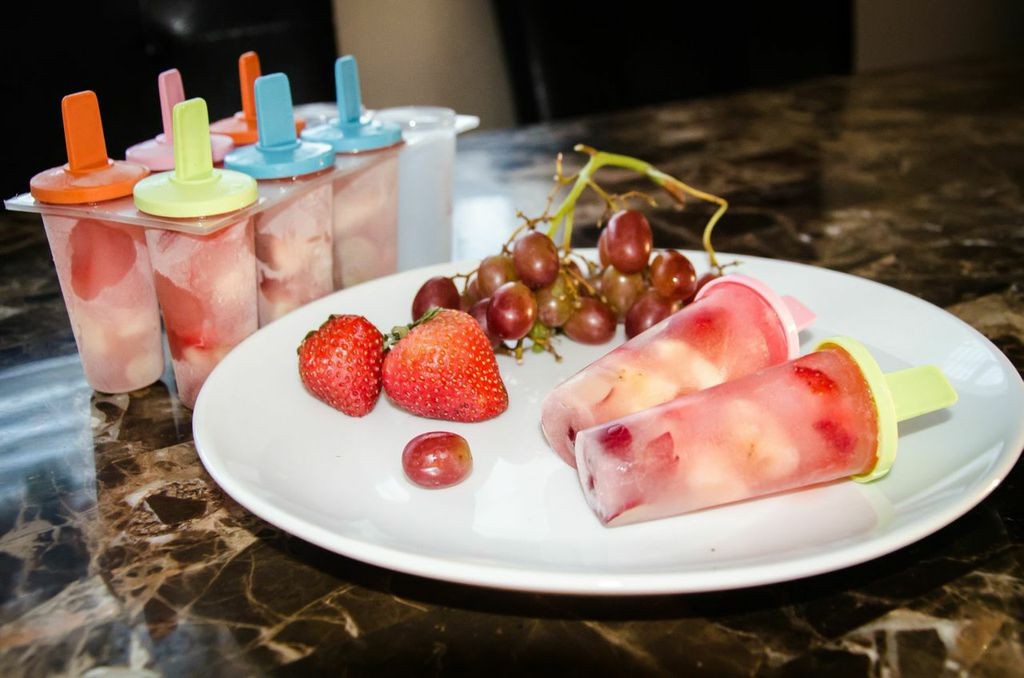 Now, the wait might drive you a little crazy ( "mami: are the ice pops ready yet?"), so, while they wait, you can teach them how to create objects or people with fruits. With the same fruits you utilized and a few toothpicks, you can make a little race guy with his race car: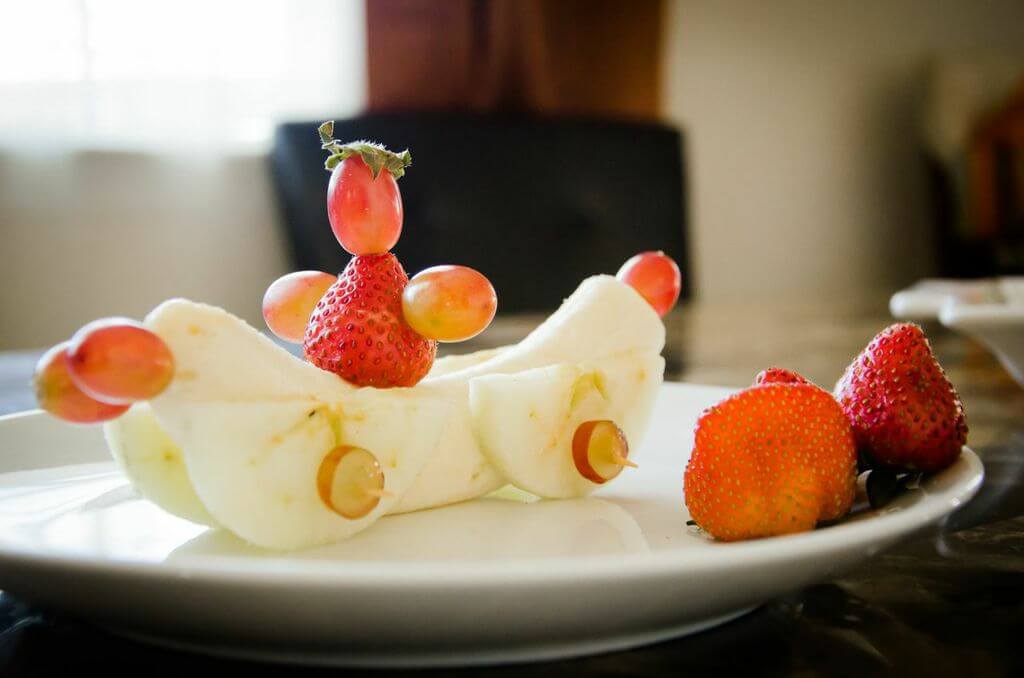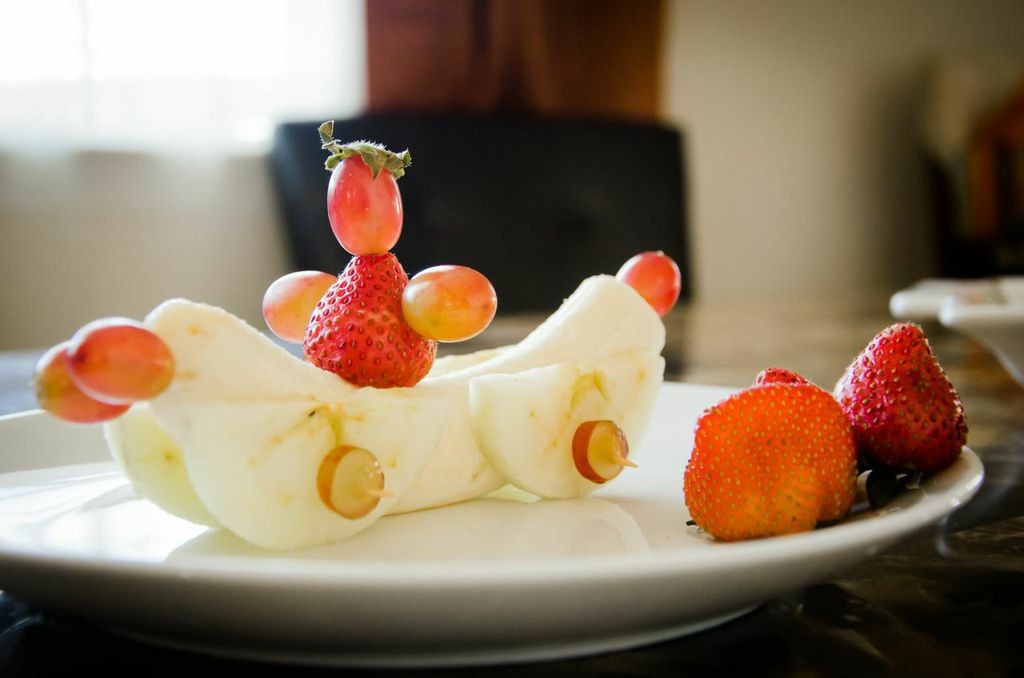 Peel one banana, and have your child help you by holding it in place while you attach four toothpicks and add apples or kiwis for the tires (just slice the kiwis or apples so they are a circular shape (if you use apples, you will have to cut the circles in half like in the picture, and use a cookie cutter to make them a more accurate circular shape; just get kiwis, it will be easier…).
Then place a strawberry on the banana with a toothpick and add a grape on top of it. You can use the little strawberry leaf to add to the grape as hair.
Then insert another toothpick through the strawberry and add a grape to each side for the arms. You may add little details to your creation as you wish (like pieces of grapes to the "tires"). If you are comfortable with your kids attaching the fruit to the toothpicks, you may also do that, and it gives them more involvement and practice.

My kids were entertained and enjoyed eating our "creation".
Have a fun time, and remember, there is always learning in anything you do.
Blessings!


Maritza is a busy home educating mom to three little blessings. She loves to read and she shares her passion with her children and by blogging about education, all about learning, and book reviews at www.homeschoolepiphany.com. She does her best at trying to manage and balance family life with an extremely patient husband. She is an Abecedarians Tutor for her local Classical Conversations community (www.classicalconversations.com), a part-time Medical Technologist, part-time Educational Consultant with Usborne Books, and More, and loves leading a Christian chapter of the Adventurers' Club at her church.