Affiliate and Referral links are used below to promote products I love and recommend. I receive a commission on any purchases made through these links. Please see my disclosure policy for more details.
I am very excited to share my first kids in the kitchen recipe with you all today. Earlier in the week, I had Ellie in the kitchen with me to help make these yummy baked sweet potato bites. I have made sweet potato french fries before but decided to make a little more kid helping friendly version for this one.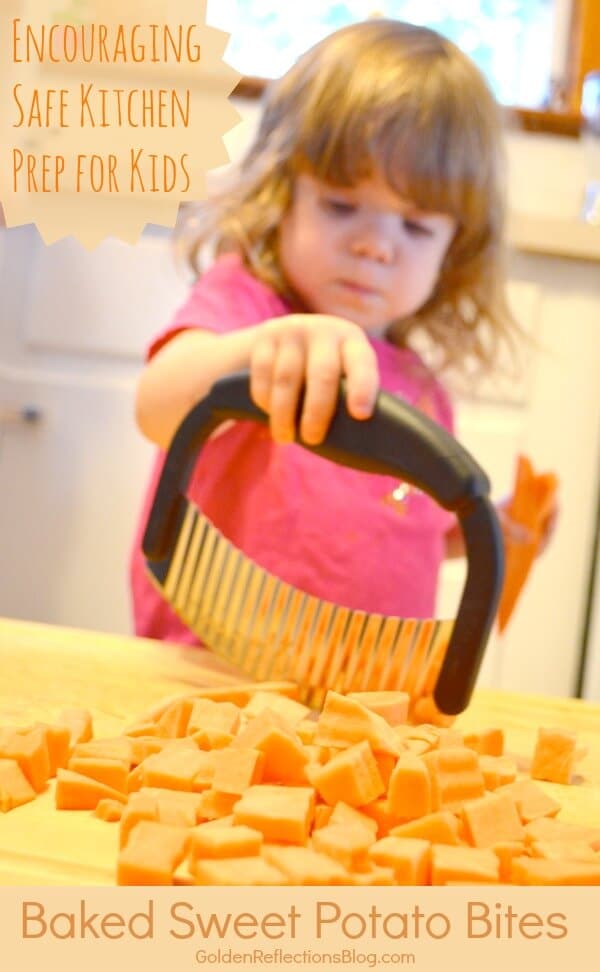 Encouraging Safety for Kids in the Kitchen
So before we get on to the recipe, I wanted to stop for a minute to address some safety things. People get nervous when children are around sharp, pointy objects, with good reason.
One of the things I love about using Montessori methods at home is the emphasis on encouraging children to be independent. But also realizing that tools and toys need to be respected and used for the purpose they were intended for. I want my daughter to understand that kitchen tools are not to be played with, but to be used for a specific purpose and how to handle them correctly.
So for this recipe, I allowed her to help with as much as she could with some modifications for safety reasons.
Since sweet potatoes are hard, I went ahead and peeled them and sliced them myself with a large knife. I made them into long french fry-like pieces. She was in the kitchen next to me on a step stool watching this entire process.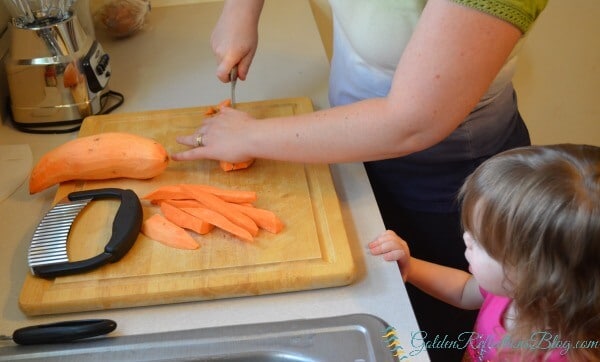 Then, I showed her how to use the crinkle cutter to slice the sweet potatoes into small cubes. She has used a butter knife before in making peanut butter sandwiches, but this was her first time using a sharp knife. This is why I chose to let her use the crinkle cutter instead of an actual knife. The handle is very far away from the blade and all she had to do was push down on it to cut.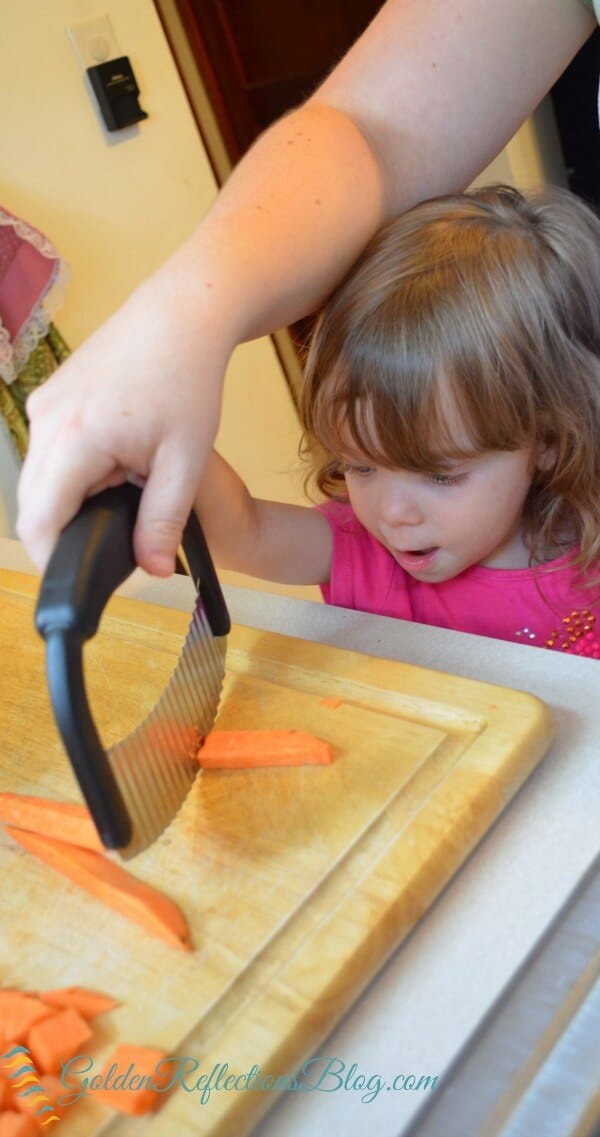 After she did this with me hand-over-hand a few times, I moved her down to her child-size table and allowed her to try herself, with me standing closely nearby. I recruited my husband to take pictures so that I could focus on watching her instead of worried about getting the right shot.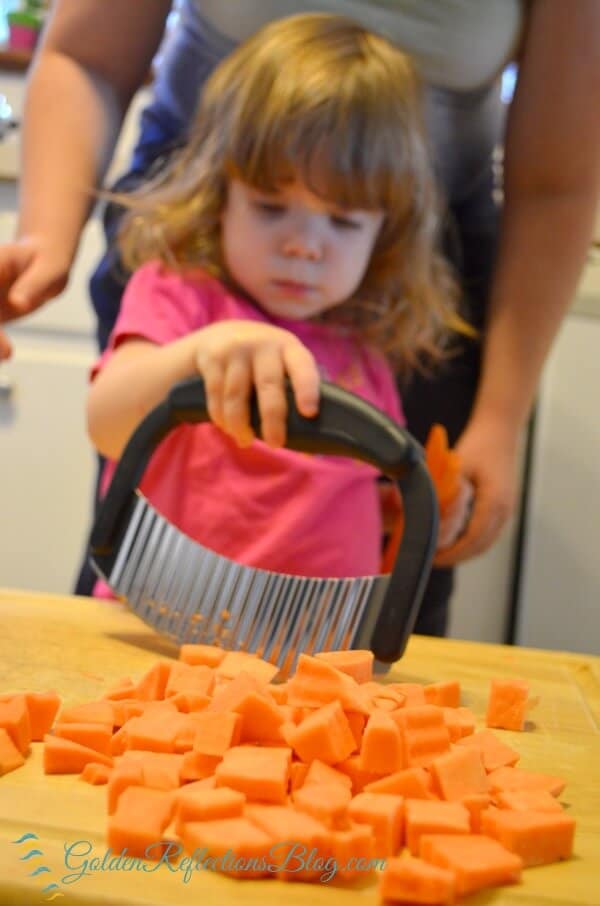 She did really well with it. And each time she cut through a piece she was very excited. Once she was finished or starting acting like she wasn't interested anymore, I took the crinkle cutter away and put it out of reach.
I think teaching kids that cooking and using kitchen tools is fun, however, there are ways to use them properly and safely. They are not toys, but tools to help them reach a goal. The goal being a yummy snack at the end!
Baked Sweet Potato Bites
Ingredients:
2 large sweet potatoes, peeled, washed, and cut into french fry shapes
All spice
Cinnamon
Olive oil
Items Needed:
Knife
Stoneware baking sheet (if you don't have one, use a regular baking sheet lined with parchment paper)
Peeler
Step stool (if doing this activity at the kitchen counter)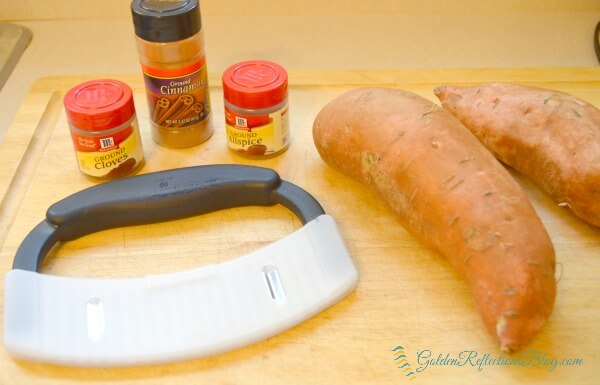 **There are cloves in the picture, but I decided not to add them.
Directions:
Peel, wash, and cut the sweet potatoes into french fry shapes. If you have an older child who is able to do this part safely, have them help as well. For younger children, give them one or two sweet potato fries to cut into bite-size pieces with a crinkle cutter.
Place all the sweet potato bites on your stoneware or baking sheet covered with parchment paper.
Drizzle with a little olive oil over the sweet potatoes and mix them around to distribute the oil.
Then sprinkle on All Spice seasoning and Cinnamon to taste.
Allow your children to help with as much of this process as they can safely. Explain how each item is used and how they should handle sharp objects safely in the kitchen.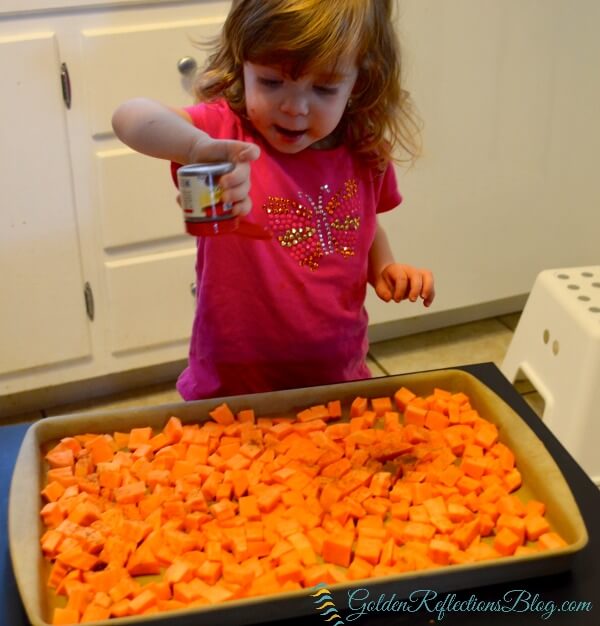 Bake in a pre-heated oven at 375 for 30-45 minutes, or until soft. Cool and serve.
Do your kids help you in the kitchen? What are their favorite recipes to make? Let me know in the comments below.
For more Kids in the Kitchen ideas, check out my Pinterest board.
Follow Heather G. | Golden Reflections Blog 's board Kids in the Kitchen on Pinterest.