Affiliate links are used below to promote products I love and recommend. I receive a commission if any purchases are made through these links. Please see my disclosure policy for more details.
I will admit, I never knew that you could really use essential oils for cleaning. I had seen a few things floating around on Pinterest that alluded to the fact that you could, but never looked into it for myself. When I began our essential oil journey in January, this was one thing I was very interested in.
I was in the middle of severe morning sickness (really all day sickness) from being pregnant with no. 2 and cleaning with regular cleaning products would send my nose into a frenzy. So today I am going to share how I have been using essential oils for spring cleaning, and really just cleaning in general.
One of the very first things I tried was the Thieves Spray. It came in a smaller bottle, but since I just wanted to try it I figured just 3 bottles would be enough.
I took the bottle into the bathroom with me and began cleaning the sink and the toilets. I immediately realized I could clean without gagging on the smell. The Thieves smell is absolutely A.M.A.Z.I.N.G. Dare I say, it made me want to clean even more?? I know… who realistically likes to clean all the time??
I was so excited by this I started telling my mother in-law about it. I had an extra bottle of the spray so I gave it to her to try. She was in the process of cleaning out rooms after my sister in-law had moved out and bought her own house so she was anxious to try it as well.
Just to show you how powerful this stuff really is, here is a funny story. I got a text from her a couple days later saying: "Don't use the spray on your walls, it took the paint right off!" I immediately started laughing actually. So word to the wise, don't just buy a bottle of it and start spraying it around willy nilly. The best bet is to always spot clean a very small area and also dilute it in some water.
She went on to tell me however that she used it to take dried paint stains off her wood floors and it came right off and left a great shine on her floors. She had been complaining to me that she couldn't find a wood floor cleaner that would leave a nice shine instead of a dull film on everything. She has since ordered her own full bottle of Thieves cleaner to use. And she will be diluting it now too, haha. 😉
For the rest of my spring cleaning this year, I purchased a 14.4 fl. oz. bottle of the Thieves Household Cleaner. I got two spray bottles from the store so I can dilute it and use it as a spray around the house.
I also purchased some Thieves wipes to have on handy and a couple more small bottles of the Thieves Household Cleaning Spray to have on hand as well.
I plan on using my spray in the following ways:
Cleaning bathrooms (including toilets, floor, sink, shower, and possibly walls *making sure it is diluted and checking a small spot first).
Cleaning the kitchen (sink, counters, fridge, front of the stove, and floors)
Window blinds
Carpet spot cleaning
Purification essential oil in the diffuser for keeping the house smelling clean and fresh. I also put a couple of drops in the bottom of the trash can to keep the smells at bay..
There are really SO many other ways you can use Thieves and many other essential oils for your spring cleaning.
If you would like to try out some of these essential oils for yourself, you can get the regular Thieves along with Lemon, Citrus blend and Purification included when you purchase the Premium Starter Kit. Plus get education freebies, a diffuser, a $20 Amazon gift card and a terra cotta diffuser necklace if you sign up for the Premium Starter Kit before March 31, 2015.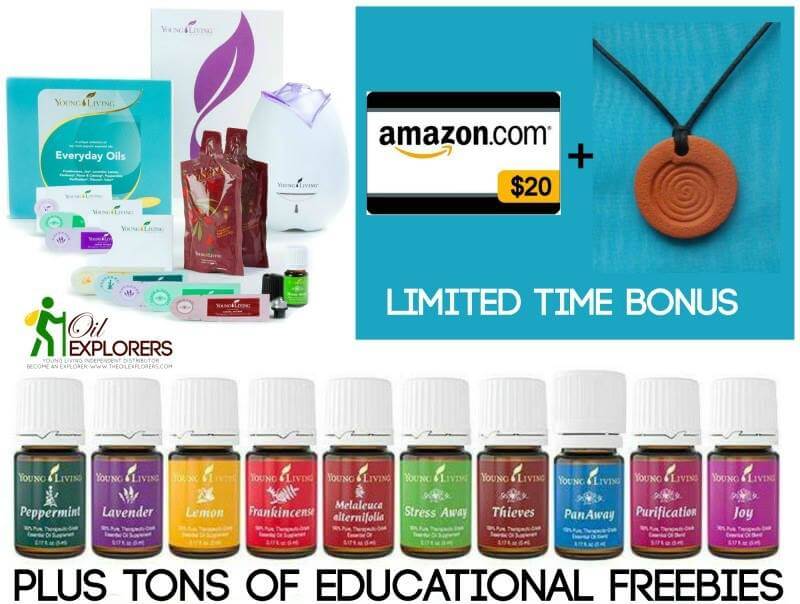 You can also get any Thieves products for 10% off with a regular purchase from March 26-31, 2015. Any questions about placing an order, be sure to let me know.
For more spring cleaning tips and ideas with essential oils, be sure to check out the Chemical Free Guide to Spring Cleaning with the Oil Explorer Bloggers.