Affiliate and Referral links are used below to promote products I love and recommend. I receive a commission on any purchases made through these links. Please see my disclosure policy for more details.
You might remember seeing my Fall Paper Plate Cutout Wreath craft from a couple of weeks ago? I had a lot of leftover fall cutouts from that activity and I wanted to use them in a creative and fun way instead of throwing them out. After a few tries, I finally came up with a craft that works well and is great for your older child to practice some good fine motor skills! So the Fall Cutout Garland Craft was born!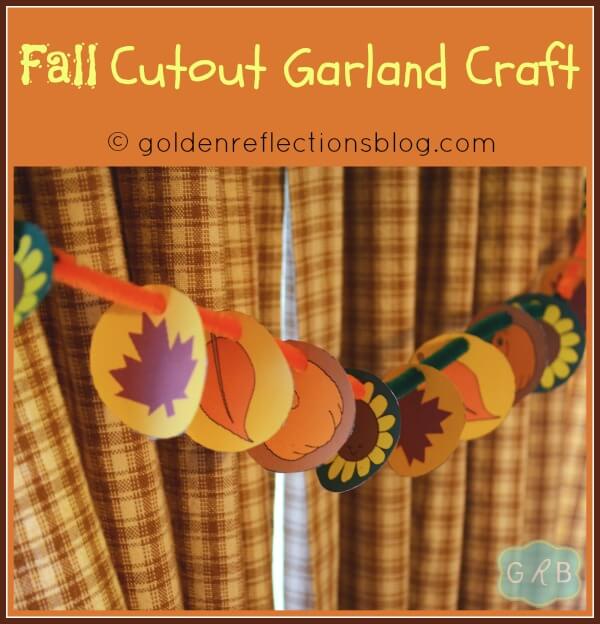 Items Needed for Fall Cutout Garland Craft
Color Fall Cutouts (I found these at DLTK-Kids.com under this activity. Scroll to the bottom to print out the cutouts)
Directions for Fall Cutout Garland Craft
Print out the color fall circle pictures from the link above.
Have your child cut out each picture using Child Safety Scissors or a 1-inch hole punch.
Use a Hole Punch to punch one small hole in each picture.
Bend the end of the pipe cleaner to make a small round stop point (so the circles do not fall off the end)
String each paper circle on to a pipe cleaner (4-5 per pipe cleaner)
Bend the ends of each pipe cleaner around each other to make the strand longer.
Once all the paper circles have been strung on, bend an extra piece of pipe cleaner to the end, so you have something to use to hang it with.

Since I already had my circle cutout pictures cut out from a previous activity, this took me only about 10 minutes to complete.
Recommended age for this activity is Kindergarden age and above. You could try it with your preschooler, however they may need extra help to complete some of the harder parts like pressing the hole punch through the circles.
Skills Being Used for Fall Cutout Garland Craft
Bilateral Coordination (stringing the paper circles on the pipe cleaner)
Grip Strength (pressing the hole punch through the paper circles)
Finger Dexterity (Manipulating the pipe cleaners together)
Eye Hand Coordination (stringing the paper circles on the pipe cleaners)
Hand Strength and Endurance (cutting out all the paper circles, using the hole punches etc.)
As you can see, there are a lot of great skills being used for this activity.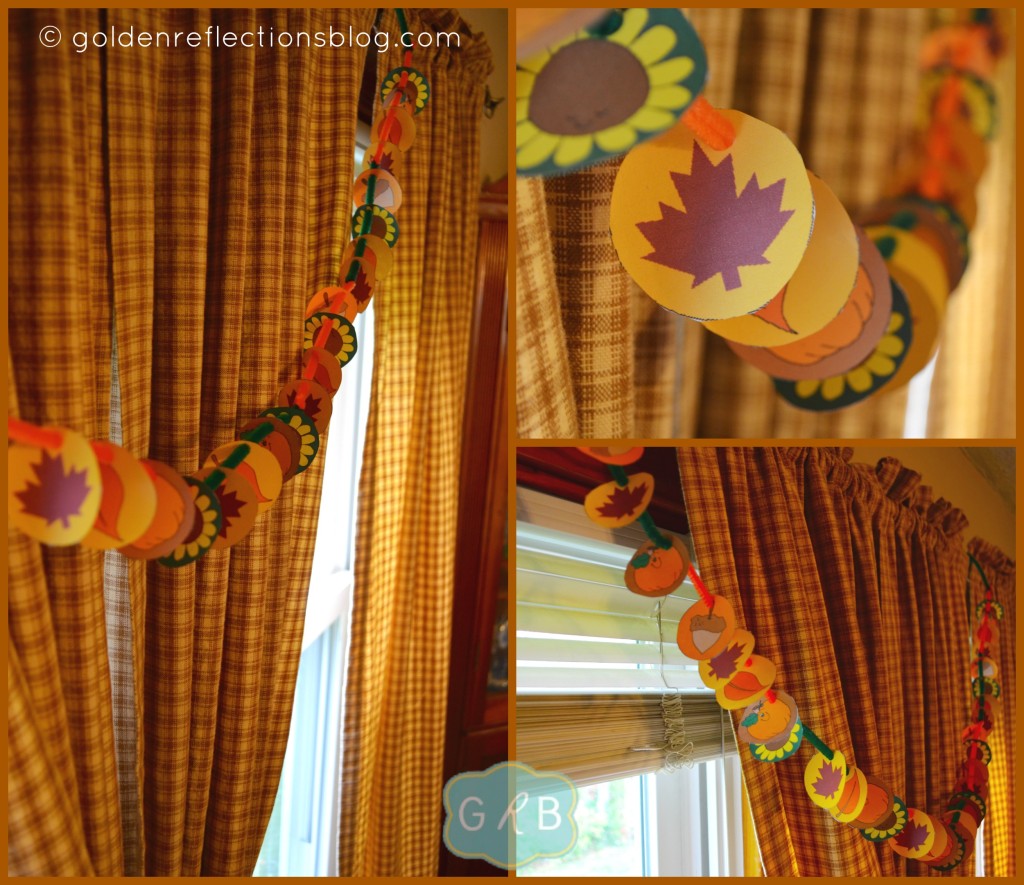 Another tip for this activity is to do a double side of each picture cutout, that way there is a picture showing from each side of the garland. You could use a small piece of glue or a glue dot to hold the two pieces together before stringing them on. If I had taken a picture from the other side of the room you probably would have just seen the white backs of the paper.
You kids can use it to decorate their school room, personal room or any area of the house you want to decorate for fall! A bulletin board with also be a good place to hang this! I just took the ends of the extra pipe cleaners and wrapped them around the curtain rod in my window! The pipe cleaners make it super easy to put it anywhere!
Have you missed any posts in my 10 Days of Fall Fine Motor & Sensory Activities for Children series? CLICK HERE to see the schedule and get caught up.