Affiliate and Referral links are used below to promote products I love and recommend. I receive a commission on any purchases made through these links. Please see my disclosure policy for more details.
I remember growing up helping my mom in the kitchen all the time. One of the things we use to make was granola. My husband also loves homemade granola and has been asking for it since we got our new oven. So I took the opportunity to get Ellie in the kitchen with me and make some cranberry, almond, and maple granola.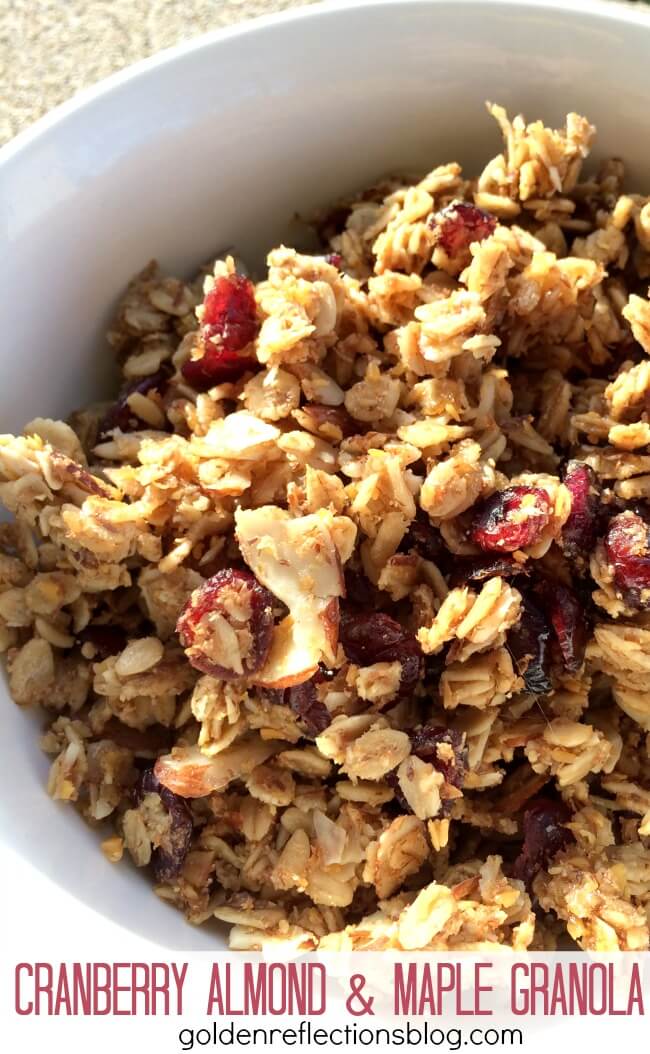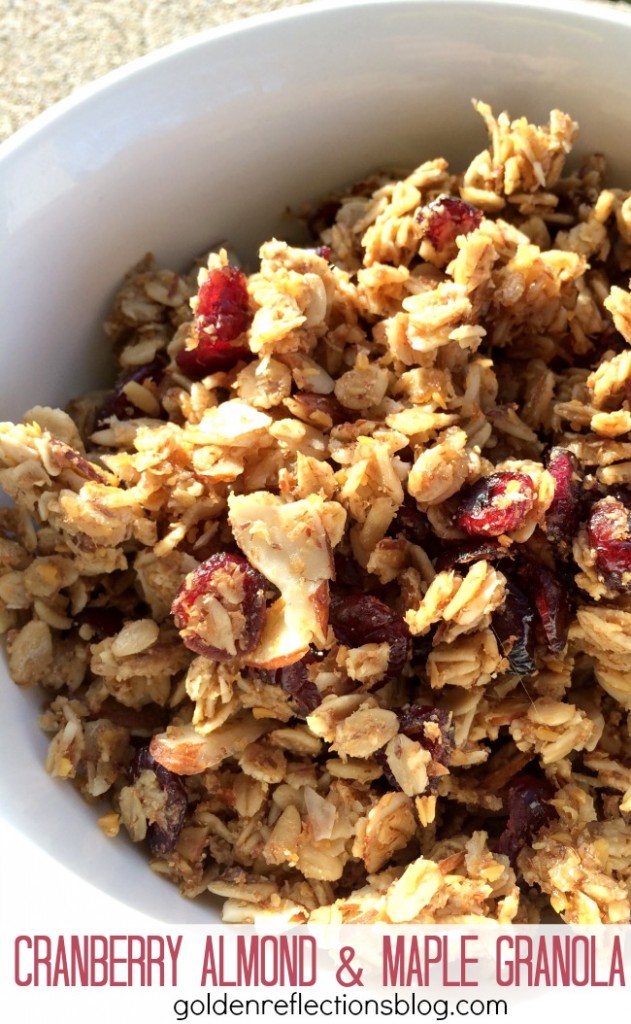 Cranberry, Almond & Maple Granola Recipe
Ingredients
Dry:
1 large box of quick oats or rolled oats (2 lbs)
2 cups wheat germ
1 cup whole wheat flour
1 tablespoon salt
1 cup of sliced almonds
1 cup of dried cranberries
Wet:
1/2 cup brown sugar
3/4 cup oil
1 cup pure maple syrup (you can also substitute honey)
3/4 cup water
1 tablespoon pure vanilla extract
Directions:
Preheat the oven to 250 degrees.
Mix all the dry ingredients together in a large mixing bowl. Mix all the wet ingredients together in a separate bowl. Then add to the dry ingredients and mix until everything is coated evenly.
Spread an even layer on a cookie sheet. You may need to divide the mixture up and bake it into two batches depending on how much you have or how large your cookie sheet is.
Bake for 1-2 hours, or until golden brown, stirring every 20 minutes or so.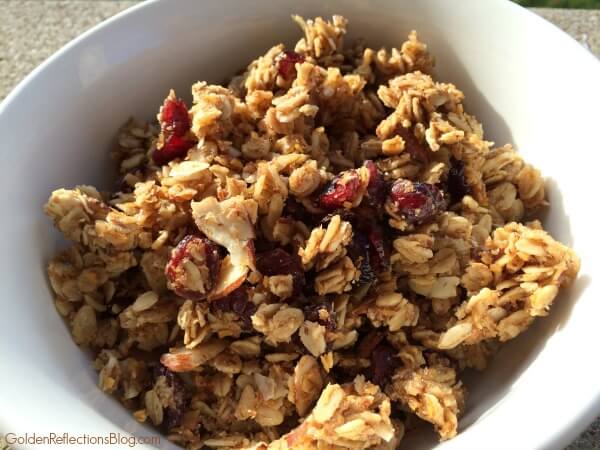 Kids in the Kitchen Modifications
You really don't need to set up anything extra for your kids to help with this. The one thing I did was bring in our Montessori table from the living room so that Ellie could mix things at her level. The counter is still a little too high for her even with a step stool. She was able to help me mix the ingredients mostly. I did the measuring and let her try pouring things into the bowl too.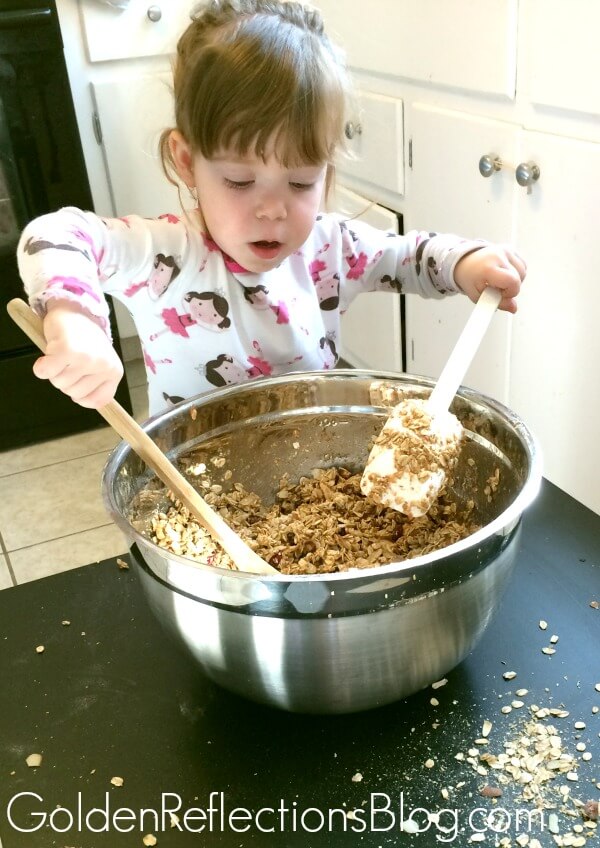 She was more interested in stirring and eating dried cranberries out of the bowl, however. 🙂 I also encouraged her to help clean up afterwards.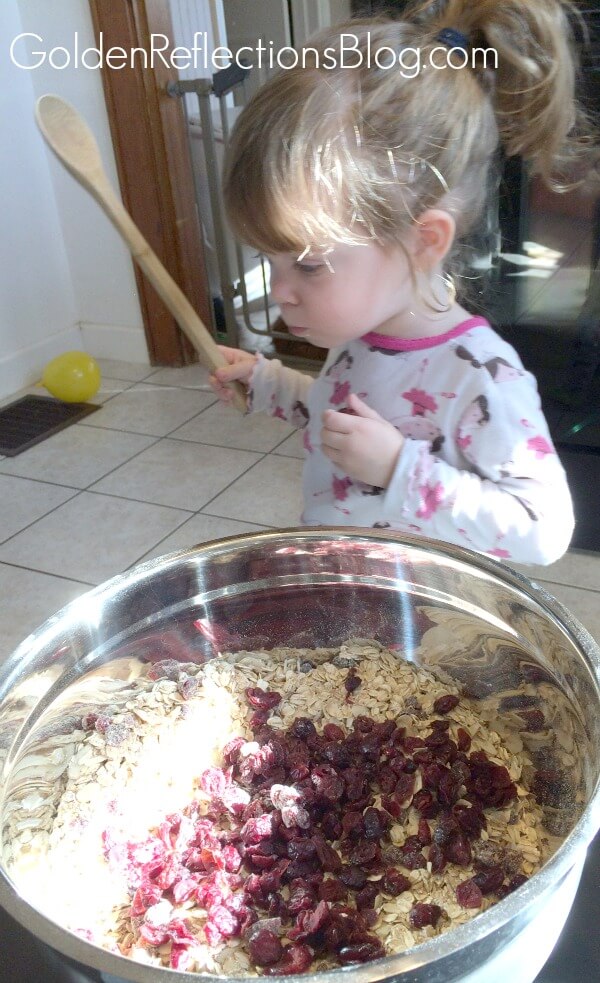 Gifting for the Christmas Season
This recipe has a lot of seasonal items in it like cranberries, almonds, and maple syrup. It would be the perfect thing to make for a Christmas gift. Simply get some glass mason jars or metal tin containers and place the granola inside. Decorate it with a pretty bow or ribbons and give it to your friends, family, or co-workers.
You can follow my Kids in the Kitchen Pinterest board.
Follow Heather G. | Golden Reflections Blog 's board Kids in the Kitchen on Pinterest.