Affiliate and Referral links are used below to promote products I love and recommend. I receive a commission on any purchases made through these links. Please see my disclosure policy for more details.
There are many ways to commemorate each school year as it comes along. A lot of people take pictures, hold signs with ages and grades, or have fun activities for their kids to do. Today I am sharing with you a Back to School activity book that you can download right here on my blog!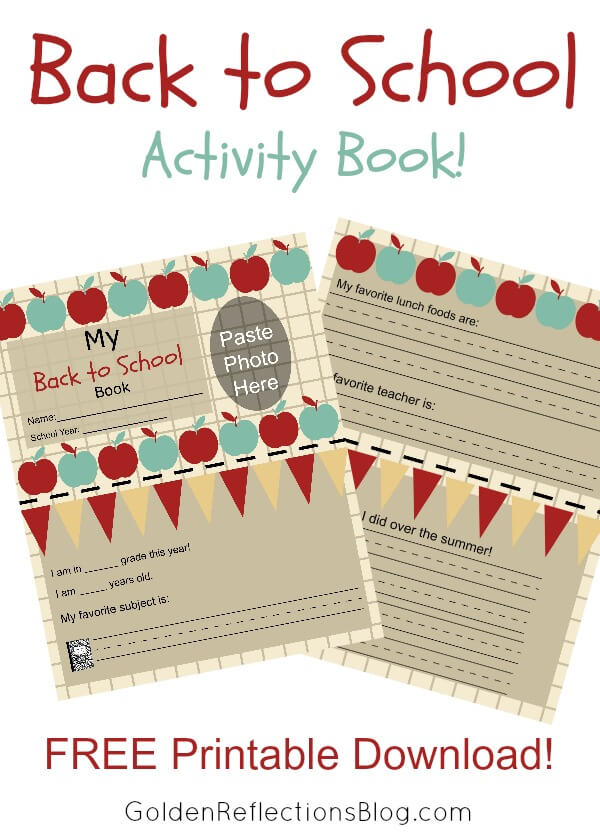 There are 4 different sections, designed for Kindergarten ages and up.
Have a nice picture for your child to glue of themselves in the photo box on the front page. Then have them fill out the information on each page.
There are dashed lines across the middle of each page. After your child fills out the questions and you paste the picture to the front, you can have them cut along the dashed lines. Then staple the pages together or use a hole punch and tie with string.
You will probably want to print this out either on card stock, or laminate it after you print it out and finish the activity.
This is also a great fine motor activity for your kids, working on writing skills, cutting skills, and if you use the hole punch or stapler, that is a great fine motor activity for them too.
>> CLICK HERE TO DOWNLOAD YOUR FREE BACK TO SCHOOL ACTIVITY BOOK <<
Now you have a great keepsake for each school for years to come. Wouldn't it be neat to have one of these books for each grade and then at their high school graduation have all the books laying out and compare pictures, writing, their likes etc? Really fun.
You can definitely use this book if you homeschool as well. For the question about who their teacher is, you can have them write mom or a pet name for yourself. For the question about their favorite school lunch, have them pick one of their favorite mom dishes or snacks.
I hope you enjoy this activity.
You can also follow my Back to School Tips Pinterest board for more great ideas.
Follow Heather G. | Golden Reflections Blog's board Back To School Tips on Pinterest.