Affiliate links are used below to promote products I love and recommend. Please see my disclosure policy for more details.
Today I am sharing one of my favorite summer toys with you; a water table! I am also excited to be teaming up with some amazing therapy bloggers today to share our favorite summer toys PLUS offer you an amazing $50 Amazon Gift Card giveaway!! Details for the giveaway are at the end.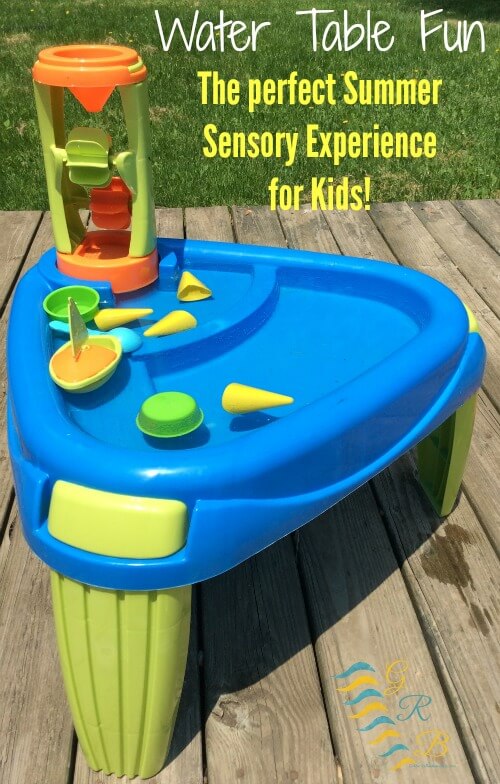 Favorite Summer Toys: Water Tables!
I love sensory activities for kids! Ironically I can't stand it when my daughter gets mud or dirt on her. HA! I think I have some of my own sensory issues, but who doesn't?!
Water tables are a great way to have some sensory fun during the summer! We have been waiting to use our water table that E got for Christmas for a while. Since I knew E would have a blast playing in it, I wanted to keep it as an outside activity! If you are feeling exceptionally brave one day, you could use it inside in a room that has a tile floor for easier clean up. But I'm not that brave! 😉
Summer FINALLY came around here, so we pulled out our brand new water table! I found a few toys that E could explore with in the water table; lots of containers for dumping and splashing with.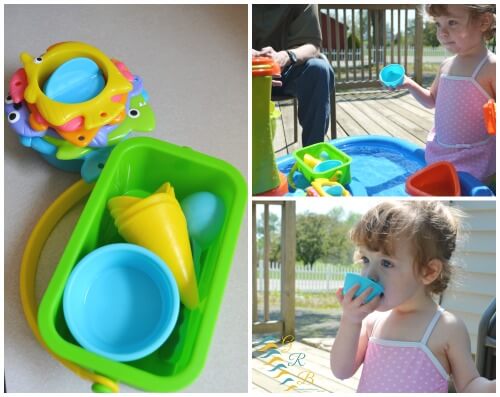 As you can see in the picture on the bottom right, the small cups also make for great drinking tools! 🙂 Our sensory table also has a little tower on it that you can pour water through and watch the wheels turn as the water goes through!
You can find lots of different types of water tables on Amazon, but here is the one we have:
I love the idea of putting the sand in the top area with the water in the bottom area. Definitely need to get some sand to try that! Here are a few more options:
Water tables are a great way to explore and have fun while still learning and working on the following skill areas:
Sensory play and exploration
Fine motor skills (dumping, pouring, grabbing toys)
Eye-hand and visual motor skills/coordination
Social skills – if they are playing with siblings, neighbors, or friends (sharing, turn taking etc)
Now let's get to the giveaway!! 🙂

How does the Therapy Bloggers Favorite Summer Toys Giveaway Work??
A group of great therapy bloggers and myself have all gotten together to give away an $50 Amazon gift card!!
Here is how it works:
Step One:  Use the Rafflecopter below to enter to win! *The rafflecopter form is located at the very bottom of this post, please scroll down* 
Step Two: Visit each of the 10 blogs below and comment on their post about their favorite summer toy or activity.  Have you tried it?  Will you buy it? Would your kiddos love it?  How would you use it?
Step Three: Earn additional entries by "Liking" each blog's Facebook page, straight from the Rafflecopter form!
REMEMBER: You will only be entering the Rafflecopter ONCE ON THIS PAGE, not on every blog in the hop. The contest is open to anyone.  Winner will be chosen at random via Rafflecopter and will be notified by email once entries have been verified (comments on each blog, Facebook likes on each blog). *The rafflecopter form is located at the very bottom of this post, please scroll down* 
The Inspired Treehouse  – Slackers Slackline – Gross Motor
OT Cafe  – Ice Cube Paints  – Sensory, Fine Motor
Golden Reflections Blog  – Water Table  – Sensory, Fine Motor, Visual Motor, Social
Pink Oatmeal  – Pool Noodles – Gross Motor, Fine Motor, Sensory
Therapy Fun Zone  – Water Squirting– Fine Motor, Hand Strength, Visual Motor
Your Therapy Source  – Sidewalk Chalk – Gross Motor, Fine Motor, Visual Motor
Mama OT  – Bubbles – Fine Motor, Sensory, Speech-Language, Visual Motor, Social
Starfish Therapies – Hula Hoops –  Gross Motor, Visual Motor
Playapy – Timocco – Motor Coordination, Body Strength
Playing with Words 365 – Water Table – Early Speech/Language Development
For more great sensory and summer activities, check out my Pinterest boards.
Follow Heather @ Golden Reflections Blog's board Summer Fine Motor Activities on Pinterest.

Follow Heather @ Golden Reflections Blog's board Sensory Fun on Pinterest.
You can also come "like" my Facebook page where I share great ideas all week long!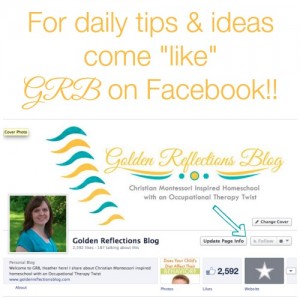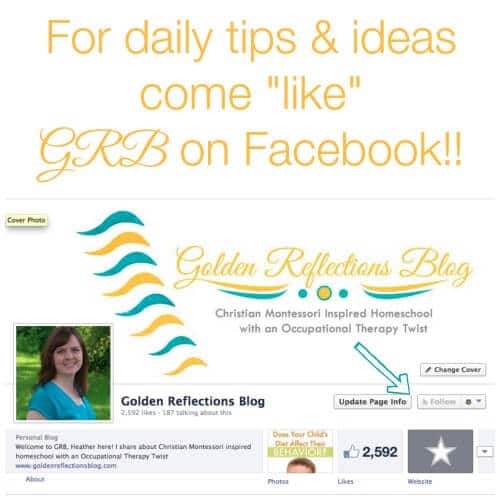 Blessings,
NO PURCHASE NECESSARY. VOID WHERE PROHIBITED BY LAW. Open worldwide to those 18 years and older. Please read FULL RULES BEFORE ENTERING, available in the Rafflecopter widget above. Giveaway closes June 6 at 12:00am
Head to the blogs below to check out the other therapy blogger favorite summer toys:
The Inspired Treehouse  – Gross Motor Toys
OT Cafe  – Ice Cube Paints 
Golden Reflections Blog  – Water Table 
Pink Oatmeal  – Pool Noodles
Therapy Fun Zone  – Water Squirting
Your Therapy Source  – Sidewalk Chalk
Mama OT  – Bubbles 
Starfish Therapies – Hula Hoops
Playapy – Timocco
Playing with Words 365 – Water Table